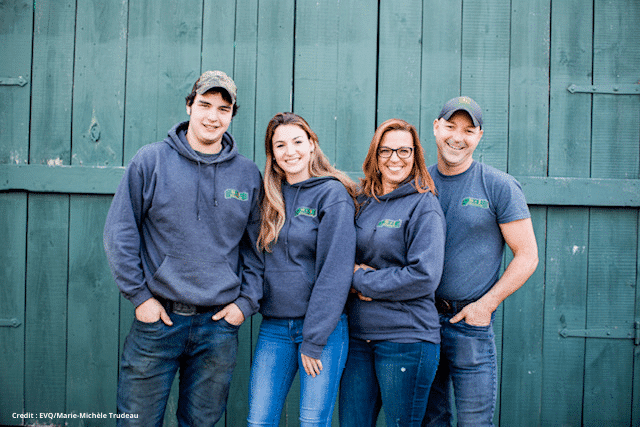 Accompanied by her children and her husband, Isabelle D'auteuil produces 135,000 birds per year. Every winter, the cold weather was a complex puzzle to be managed on their farm in Sainte-Marthe. The ESA-1000 heat exchangers have turned out to be the missing piece to welcome this season with confidence.
"For a long time, we dreaded winter. Our inlets caused a lot of drafts, says the co-owner of Ferme Simon et Isabelle Villeneuve S.N.C. We had to put on woolen panels to block the incoming air, which made the air moist, sticky litter and very restricted flow." Anxious to limit ammonia levels in her buildings, Ms. D'auteuil had no other choice than to ventilate, often 24 hours a day – which increased heating costs. "Every year, we improve something on the farm, whether it's grading, drainage, extensions, etc. But the year I really felt like we did a leap forward, is after the installation of the ESA-1000 heat exchangers in 2019», she mentions.
According to the Ste-Marthe producer, her heat exchangers make a real difference on air quality. In winter, it ensures that they alone are sufficient to ventilate the barns and reduce humidity almost entirely. For the owners of the poultry farm, the results are convincing: a reduction of nearly 50% in heating, cleaner air and healthier birds.
An all-in-one solution
Formerly dairy farmers, Isabelle D'auteuil's family turned to raising poultry in 2007. "Today, my daughter and I take care of everything related to the buildings, while my husband and my son take care of the crops, adds Ms. D'auteuil. We are always looking for ways to optimize our work." The one that had once been discouraged by other heat exchanger systems says she is impressed with the efficiency of the ESA-1000 system. "We were surprised to see how quickly and easily they are to clean." Beyond the effectiveness of the product, she takes her hat off to the entire ESA team, who offers outstanding technical support. "The team is fantastic. Not only they know their product by heart, but they explain it well." 
Isabelle D'auteuil was approved for a subsidy for the purchase of her sixteen ESA-1000 heat exchangers. "And when I needed to make a last-minute change, the ESA team arrived on Saturday morning and resolved it." 
Satisfied? The producer of Sainte-Marthe would certainly not go back! The proof? She is already planning to contact ESA when her next chicken house is built.
 "Thanks to my ESA-1000, I no longer dread Winter."